English IGCSE
About This Course
The English IGCSE is an internationally recognised qualification that is designed to develop a good understanding of language, punctuation, types of writing, literature, and the writer's purpose behind writing.
The aims of this course are to provide students with a solid, in depth understanding of concepts such as language use, subject terminology, punctuation and writer's purpose, across an array of different text types. This will familiarise students with the different types of texts and therefore should help to develop skills, such as the ability to evaluate, identify and analyse.
In this course the types of texts students will be faced with range from poetry, creative writing, and letters, so that they get to experience all of the different types of text they will need to know in order to pass their IGCSE exam.
The English IGCSE will have a series of both multiple choice, research and essay-based assessments.

The contents of this course are covered over 5 modules, all of which contain an assessment upon completion to help test and cement the student's knowledge and understanding. Therefore, giving students the best chance of passing an IGCSE qualification in a flexible and affordable manner.
How will I know if I am eligible to complete an IGCSE?
The typical age at which people choose to complete the IGCES's is 14 to 16, but anyone over the age of 14 can enrol onto this course. You also do not need any previous qualifications to be eligible for this course.
Course Fees
This course comes as part of a package where access to 4 IGCSEs is given for the price of £1400, these include English, Physics, Maths and Business Studies.
Students can make payment using one of the following methods:
Credit or Debit Card
Bank Transfer
Interest Free Monthly installments
Western Union
What is included in the cost of my course?
All course material, including online modules and written assignments.
Personal tutor support with 1-2-1 Zoom sessions where required.
Dedicated student support
Access to an online social learning forum
Assignment marking and feedback.
Module Listing
English core skills
The module covers the basic English skills that you will need in order to complete the rest of the course successfully. There are no specific questions on spelling and punctuation in the examination, but you will be expected to punctuate and spell correctly, as well as write good, grammatical English.
Reading comprehension
This module covers questions that are designed to assess reading comprehension (AO1: the ability to read with understanding and select information in an appropriate way from the passages). Questions will be asked on passages which are linked by their theme or subject matter.
Writing to specific guidelines
This section tests your ability to write, according to clear guidelines, in response to material that will appear on the examination paper.
Writing reviews, blogs, and articles
Reviews come in all shapes and sizes and these days, and online reviews can even make or break a business. For the purposes of the exam, we will be looking at longer reviews, rather than the short ones found on review sites like Trustpilot.
Writing Styles and Exam Prep
This module covers some specific formats involved in transactional writing including instructions, reports, letters, reviews, blogs, articles and leaflets.
Level: 5 Module Listing
Principles underpinning health and social care
All health and social care professionals have professional codes of conduct. This module aims to develop an understanding of the values, theories, and policies underpinning health and social care practice and the mechanisms that exist to promote good practice within the sector.
The management of quality in health and social care
Quality is an essential component of health and social care services and a concept with many different interpretations and perspectives. The aim of this module is for learners to develop an understanding of different perspectives on health and social care service quality and how it is evaluated in order to empower and involve users of services.
Research project
This module aims to develop the learner's skills of independent inquiry and critical analysis by undertaking a small pilot investigation of direct relevance to their higher education program or professional development.
Partnership working in health and social care
The aim of this module is to enable learners to develop an understanding of the importance of working positively in partnership with others in health and social care. Learners will explore the nature of partnership on three levels. First, they will examine partnerships with users of services that empower individuals to make informed decisions and encourage independence. Second, they will consider partnerships between different professionals within the health and social care and explore inter-agency working. Finally, learners will investigate organizational partnerships and examine different ways of joint working.
Working with service users with complex needs
The aim of this unit is to help learners to understand issues of health, disability, and illness and how health care professionals can empower those with complex physical and mental health needs to determine their own care.
Sample Certificate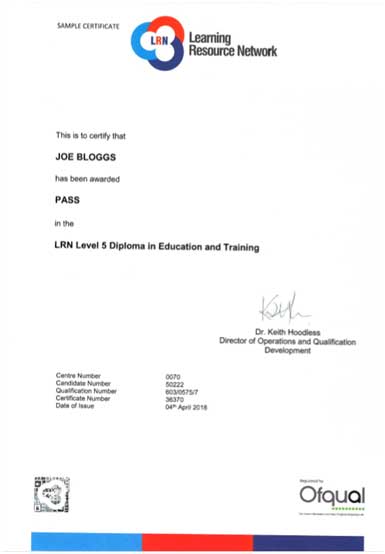 Level 5 Sample Certificate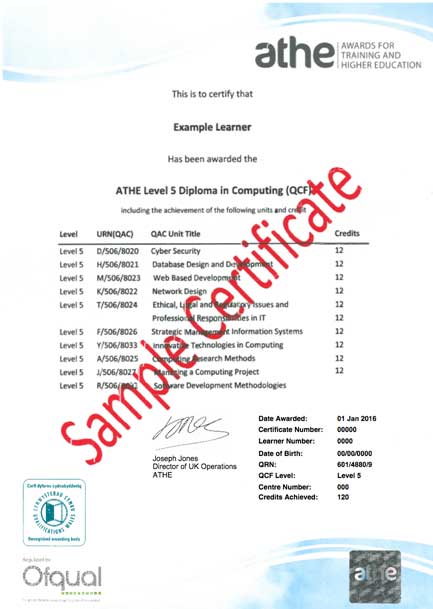 How do I sit the IGCSE Exam?
Approximately 6 months before an exam date, Students should book their place at an exam centre to take the English (Specification B Paper 1 Paper code: 4EB1/01) exam.
The exam centre could be a be a private exam centre or a school or college that is also submitting its own students for the exam.
Edexcel publish a list of exam centres that accept private candidates. This won't cover every available centre, so if there's nothing shown in your area, we recommend contacting local schools and colleges directly.
Exam fees are not included in the course cost as they are paid directly to the exam centre. They will vary depending on which centre you choose.
Career path
Upon completion of this course, students will have the foundations and fundamental knowledge needed in order to study A levels or a Level 3 qualification with Mortha Halls of Ivy.
Progression
This level 5 qualification will enable students to teach in the post 16 tertiary education sector of colleges and community schools. The route to teaching in the state school sector using this level 5 qualification is through membership of the Society of Education & Training (SET).
To be eligible for SET membership students are required to have completed their Initial Teacher Training (ITT). ITT involves successful completion of a Level 5 Teacher Training Course, assuming candidates have already completed a Level 2 (GCSE) Maths and English or equivalent. Completion of the courses provides students with their Qualified Teacher Learning Skills (QTLS) which is equivalent to the Qualified Teacher Status (QTS) and sufficient to teach in state schools, as well as Further Education.
For more information on the QTLS and how to achieve it on completion of this level 5 Education and Training qualification, please click here
Students may wish to contact SET direct for further clarification of their requirements
Career Path
Successful completion of the full Level 4/5 Health and Social Care course and final year of an accredited Undergraduate Degree program will act as a springboard to a professional career in health and social care services. The course pulls together theory and practice for those who wish to work with people in a caring environment. It is suitable as a base for those who wish to move onto one of the many health or social professions or those who want to keep their options open.