Teacher Training, University 2nd Year (Level 5)
TEACHER TRAINING
UNIVERSITY 2ND YEAR
LEVELS: 5 | CREDITS: 120 | £1800 | Progress to QTLS
About This Course
The level 5 diploma in education and training is suitable for individuals who are already practising within the education sector or those who are not currently practising but have a significant amount of experience and now wish to consolidate that with a formal qualification. The course is a 120-credit qualification and is accredited by the Ofqual recognised organisation, Qualifi.
Throughout this course, students will gain the experience and knowledge required to meet the necessary criteria through a combination of theoretical study and practical activity. The theory content will be delivered through our 9 online modules. The practical activity is to be carried out during a placement in a real-world teaching position. This can be either a position the student already occupies at the start of the course or a position that they find over the course of their study with MHI, and can be located at a school, college or community group – the only restriction is that there must be a mentor at the placement who is able to support and verify the students work.
This programme will be assessed via a combination of 9 online multiple-choice assessments and 7 written assignments. This course prepares students to teach in a wide range of contexts. Upon successfully completing this course, students will be able to plan and implement schemes of work, develop teaching and learning strategies, and teach effectively in public and private schools, colleges and universities in many countries all over the world.
Awarding Body

Qualification
Am I eligible for this programme?
To enrol onto the level 5 course, you must be at least 18 and understand that as part of this course you will need to complete 100 hours of teaching practice.
Course Fees
The fee for enrolling onto the level 5 course is £1800.

Students can make payment using one of the following methods:
Credit or Debit Card
Bank Transfer
Interest Free Monthly installments
Western Union
Who is this course for?
Level 5 diploma in education and training is suitable for teachers, trainers and tutors working in schools (state/academies) further education, adult and community learning or work-based training within public, private, voluntary or community organisations.
It prepares trainee teachers to teach in a wide range of contexts and requires observation and assessment of practice. Teaching practice is a requirement of the qualification.
It can meet the needs of a range of trainee teachers, including:
Planning and developing schemes of work
Delivering learning sessions
Developing teaching and learning strategies
Assessment practices
What is included in the cost of my course?
All course material, including online modules and written assignments.
Personal tutor support with 1-2-1 Zoom sessions where required.
Dedicated student support
Access to an online social learning forum
Assignment marking and feedback.
Module Listing
The teacher training course contains 9 online modules. These are designed by Mortha Halls of Ivy's expert academic team to provide students with a solid theoretical basis for developing their teaching skills, and therefore cover the following topics:
Developing teaching, learning and assessment in education and training
Evaluating learning programmes
Teaching, learning and assessment in education and training.
Theories, principles and developments in education and training
Understanding and managing behaviour in a learning environment
Wider professional practice and development in education and training
Inclusive practice
Manage learning and development in groups
Developing, using and organising resources in a specialist area
Level: 5 Module Listing
Innovative technologies in computing
This module looks at innovative trends and disruptive advances taking place and examines the new generation of skills and knowledge that will be required to work successfully in the sector.
Computing research methods
This module will explore the knowledge and skills required to research in this field and the qualitative and quantitative approaches required including the use of literature and design of research proposals.
Software development methodologies
This module looks at the role of systems engineering in the development of software and various models of data, software, and processes using modeling approaches.
Computing project planning
Creating and managing projects has changed over the years with the development of sophisticated IT software, this module focuses on how being a project manager in the '80s differs from being a project manager in today's world.
Strategic management information systems
This module is concerned with developing an understanding of the strategic role of MIS within the organization and how it impacts on the broader objectives and strategy of the business.
Ethical, legal and professional issues in IT
This module explores current issues in the IT sector and how these may impact on areas of security, confidentiality, privacy, and the law.
Network design and management
This module explores the principles of networks and network design and implementation and support of network systems.
Web-based development
This module will explore the design, deployment, and management of virtualization and explore its commercial and potential impact.
Cybersecurity
This module will enable an understanding of the importance of digital security to business, to understand industry standards of digital security and be able to recommend improvements in security.
Advanced databases
This module focuses on understanding database design and development includes advanced languages to analyze and query database data. Students will research database management and critically test and evaluate databases.
Sample Certificate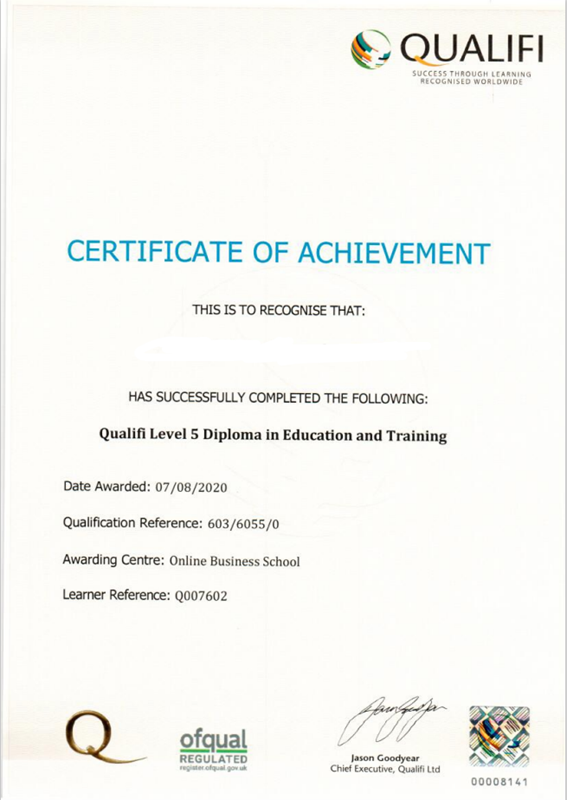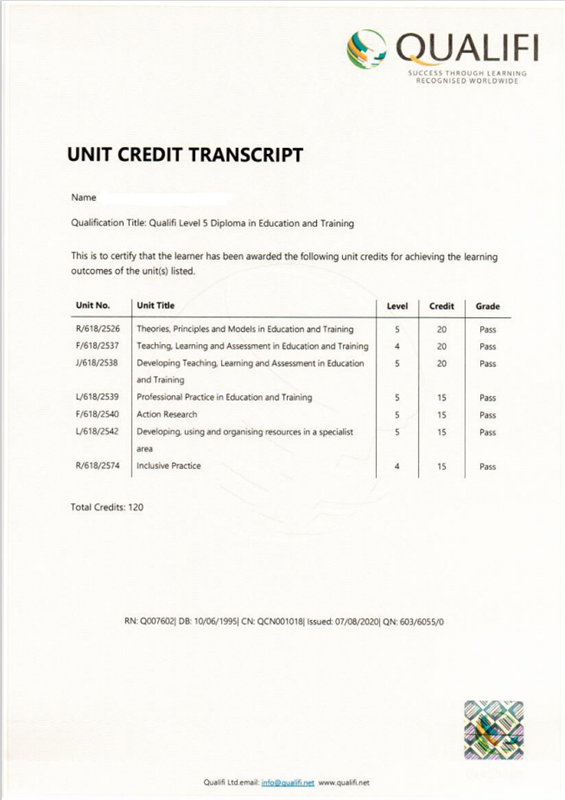 Level 5 Sample Certificate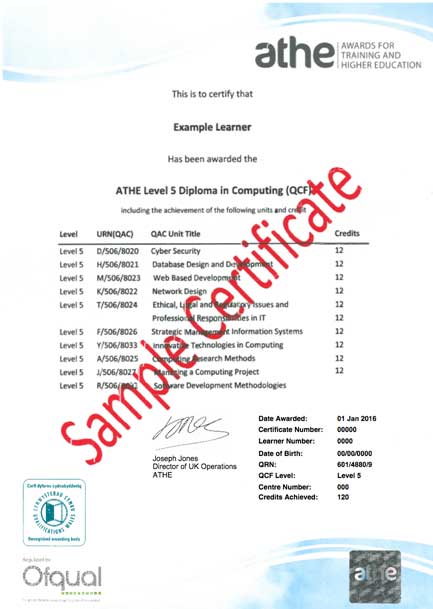 Assignment listing
This course also contains 7 written assignments, which have been created to address all the subjects, both practical and theoretical, that learners will need to be familiar with in order to teach effectively:
The Assignment unit titles for the level 7 course are:
Theories, principles and developments in education and training
Teaching, learning and assessment in education and training-
Developing teaching, learning and assessment in education and training
Professional practice in education and training
Action research
Developing, using and organising resources in a specialist area
Inclusive practice
More information about the units can be found here www.qualifi.net
Assessment
Assessment at Mortha Halls of Ivy is a very straightforward process:
After you have completed an online module, you will have an online assessment to complete. This assessment contains 30 multiple-choice questions. You will have one hour to complete these questions which are answered in sets of five so you will have plenty of time to review and edit your answers. After an hour the test will automatically time out.
After you have completed the test, your results will be displayed immediately. If you have passed, you will receive a Certificate of Completion. If you didn't pass, you will receive a notification of a "refer'' where you will be told how to retake a module assessment. You can complete these modules at your own pace, as there is no deadline to complete the course.
When the online modules have been completed, you will then be able to take the final written assignments, provided by Mortha Halls of Ivy, that test your knowledge and understanding of the modules. After the successful completion of these eight assignments, you will receive your Diploma (from the Awarding Organization).
You will then be eligible to apply for progression onto a Top-up course through a recognized UK university on-campus or by distance learning
Progression
This level 5 qualification will enable students to teach in the post 16 tertiary education sector of colleges and community schools. The route to teaching in the state school sector using this level 5 qualification is through membership of the Society of Education & Training (SET).
To be eligible for SET membership students are required to have completed their Initial Teacher Training (ITT). ITT involves successful completion of a level 5 teacher training course, assuming candidates have already completed a level 2 (GCSE) Maths and English or equivalent. Completion of the courses provides students with their Qualified Teacher Learning Skills (QTLS) which is equivalent to the Qualified Teacher Status (QTS) and sufficient to teach in state schools, as well as further education.
For more information on the QTLS and how to achieve it on completion of this level 5 education and training qualification, please click here
Students may wish to contact SET direct for further clarification of their requirements.
Career Path
Upon successful completion of the Postgraduate Diploma in Strategic Management and the final year of an accredited postgraduate degree program, learners will have the skills to execute a professional managerial role in marketing, accounting, business consultancy, and more.
A business management diploma and MBA develops key cognitive skills such as critical thinking, analysis, evaluation, and writing while also establishing presentation and numeracy skills to enhance knowledge and experience. These skills are critical in helping you advance your career.